[COVID & New normal]
Between lockdown and remote collaboration, how the hybrid work invites R&D teams to transform their process?
Reading time 4 minutes:
One year after the COVID-19 pandemic, it is clear that the way we design and develop our solutions has changed at Sciforma Deliver. We wanted to share our feedback on the impact of the pandemic on our Product and R&D teams. This hybrid transformation takes many shapes,  which we are sharing with you in a series of articles. This first one is appropriate to the impact on the development and communication of the product roadmap.
Between lockdown and remote collaboration, how the hybrid work invites us to transform our product & R&D process?
The product roadmap is the document that summarizes, orders and prioritizes the short and long term objectives of a product. It allows the company and its customers to align  on the direction taken, the problems that the product must solve (and those that the company decides to give up). This document evolves regularly; it is one of the essential deliverables of the Product Manager.
The role of the Product Manager at Sciforma Deliver is to identify user needs and to imagine new features that will meet these. He guides the R&D team in delivering this vision to our customers. He constantly interacts with the Customer Success, Marketing, Sales, R&D and Support teams to concretize the company's strategy in a product that embodies Sciforma. Deliver's mission: to enable our customers to be faster and more productive in delivering their projects.
Sciforma is a software company that develops multi-solution SaaS platforms for work and projects; our mission is to help teams to better manage their project portfolios and collaborate more efficiently whatever their work situation: in the office, at home, on the road, internationally…
The radical change in the way of working linked to the lockdown has not questioned our model, but on the contrary has reinforced it. Sciforma's mission is to consolidate project information in a central location and to support collaboration in distributed teams: the platform allows everyone to view and update status and informations from anywhere. This is precisely what our users needed to maintain their activity during the lockdown.
As developers of collaborative software ourselves, we are already "well equipped" with technologies for remote work. Our teams work from all over France and the world in several time zones: our engineers work remotely half the time. Sciforma already had a strong practice of telecommuting, and the transition to 100% telecommuting during the confinements went smoothl
Constantly questioning our roadmap
In the context of a sudden lockdown of unknown duration, the first reflex of Sciforma and the Product and R&D team was to question our product roadmap:
"Aren't the problems we are solving becoming less of a priority than responding to the urgent and mandatory implementation of remote work?"
"What collaborative features should we focus on first to support our customers?"
We then reviewed the prioritization score for each project planned for the year in light of the events. Integrations with chat and video conferencing tools were naturally placed at the top of the list. Other topics were also added to the roadmap inspired by feedback from our users and sponsors: their way of managing crisis in Deliver fed a series of design workshops to address new use cases. For example, our Sciforma Work & Projects in Microsoft Teams application has been augment:   Since lockdown has made Microsoft Teams the indispensable tool for many of Sciforma Deliver's users, the platform's homepage is now included in the app! The vue on users tasks and projects are even immediate!  In addition to this short-term vision, this period of new ideas also fed our 1-year product vision.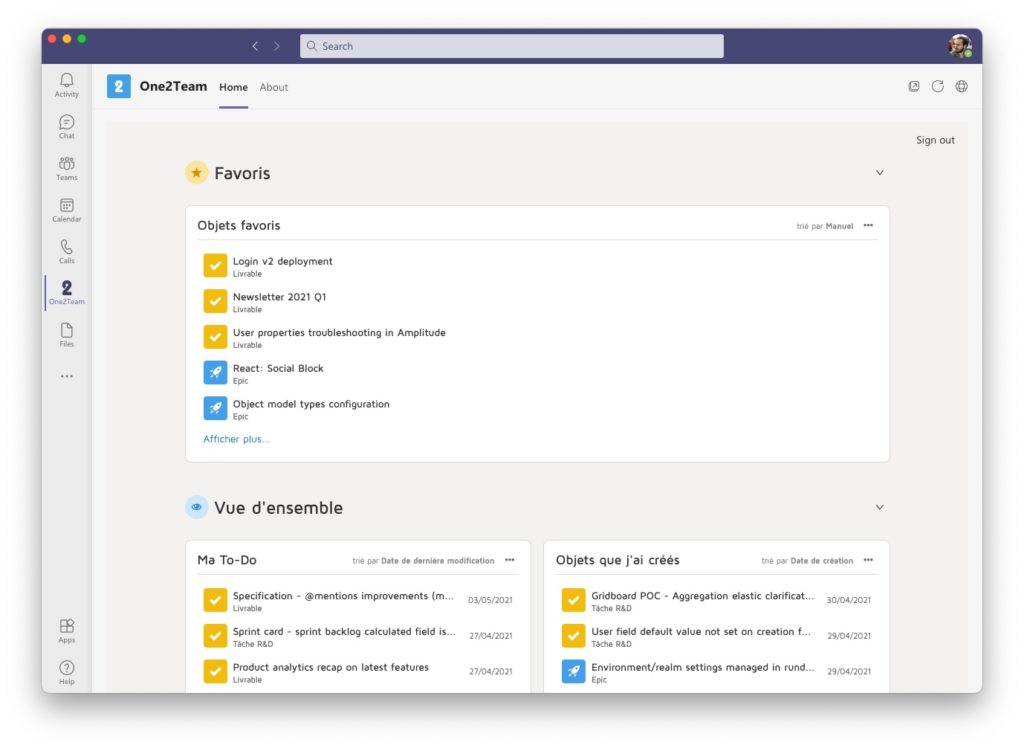 The exercise of questioning and prioritizing the roadmap is greatly facilitated by the agile organization of the R&D team. The one-week sprints allow us to quickly reorganize around new topics. Of course, initiated projects cannot be put on hold overnight, but the habit of breaking down features into deliverables over 6 weeks gives us the opportunity to reprioritize or change direction quickly.
Aligning Stakeholders Differently
Aligning stakeholders (Users, Customer Sponsors, Marketing, Customer Success, Engineering, Comex, etc.) is a crucial activity for the Product Manager to give birth to a quality product. In addition to formal meetings to consult, debate and communicate on decisions taken, alignment often involves informal discussions, at the drop of a hat, to collect opinions or test the strength of an idea by exposing it to the coffee machine. With telecommuting teams, these "organic" meeting moments have become much rarer and alignment more challenging to achieve.
Finding informal moments despite social distancing
Videoconferences dedicated to break times, at lunchtime, or during free time of sharing around a game for example, have made it possible to maintain a bond outside the framework of the "classic" work meeting. Just like conversations in the break room, these informal virtual meetings are conducive to unexpected exchanges that can continue later during more formal and dedicated one-to-one exchanges, for example.
Even if these occasions maintain a certain closeness, they tend to run out of steam after a few weeks and only bring together a few die-hard volunteers. Finally, unlike office meetings where new participants can spontaneously join the conversation and disgress, these videoconferences do not allow for several discussions to be done simultaneously.
One of the features of Deliver is to track information by entering it into the platform. This has the advantage of formalizing statuses and decision points. But more than that, especially in the case of remote or hybrid work, it allows one to work "asynchronously" and to gain in efficiency. Since it is more difficult to get everyone in the same room to make a decision, or to put everyone on the same level of information, Deliver has the advantage of being able to make information available to everyone at any time.
Sciforma Deliver's paradigm: it is not the information that goes to the users but the user who comes to the information!
[+30%] This exercise allowed us to save on meeting time, to make progress on the subjects without waiting for the simultaneous availability of all the stakeholders, and forced us to adopt sound practices: formalization and clarity. Stakeholders forced us to adopt sound practices: formalization and clarity. In concrete terms, our own use of Deliver during the lockdown intensified: the number of mentions, notifications, and minutes stored in the tool increased by 30%.
Changing The Way We Communicate With Our Customers During Hybrid Work
Another change that was quickly undertaken as a result of the pandemic is the way we communicate our product strategy and roadmap to our customers. Traditionally, we hold quarterly Customer Advisory Boards with users to present the new features of the latest release, discuss use cases, and share best practices. These events, which are usually held in our offices, were becoming impossible to maintain. In order to keep the interactivity, we turned to the webinar format, which combines a formal presentation led by a Sciforma Deliver team and a question-and-answer session.
The number of participants is less restrictive and we welcome twice as many participants as before to those virtual sessions, involving even more users!
The Way To Work In A Hybrid World
If it is usual to criticize lockdown, let's admit that it has allowed Sciforma to test the resilience of our roadmap process.
In this context, the use of Sciforma Deliver, Platform to Deliver Work and Projects:
avoided saturation of virtual meetings,
required us to make an effort in writing down shared information,
allowed everyone to know at any time what decisions were made or to be made, taking into account the time zone of each person,
and finally allowed us to work synchronously and asynchronously in order to deliver on time and efficiently.
In the next article, we will discuss the changes in the design and feedback collection process.