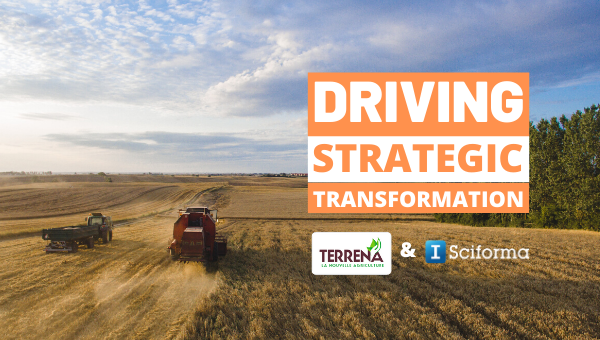 Do you want to drive large-scale transformation within your company?
Do you need to assess the strategic value of each initiative to launch the right projects?
Are your resources limited and you need to optimize their allocation?
Are you going through too many documents to avoid seeing the same project carried out simultaneously by several different entities?
Read the testimonial of Christophe Evers, PMO of the IT Office at Terrena, who explains how using Sciforma PPM tool has helped his organization enhance project portfolio management and achieve strategic transformation.
Terrena adopts Sciforma software to support its strategic transformation
Terrena is a French agrifood cooperative group founded in 2004. The Terrena cooperative was born out of farmers' desire to sustainably enhance their animal and plant production, to energize their territory and to share an economic cooperative. With a sales revenue of 4.9 billion euros, 21,500 member farmers and 14,000 employees, Terrena is one of the major players in agriculture and the agrifood industry in France.
In 2010, the group embarked on an accelerated transformation process with a goal to become a leader in agricultural and food innovation through a strategic initiative "The New Agriculture". This ambitious program aims to significantly transform Terrena's operations and activities to bring more and better produce and products to market.
The IT department uses Sciforma PPM software to manage its project portfolio
In this context, the IT department appeared to be the lever to support and execute this plan. As a result, it had to absorb an increasing number of projects as the transformation took place. It then became necessary to centralize and efficiently monitor project portfolios, as well as the resources allocated to them, with a tool like Sciforma PPM.
The adoption of Sciforma has streamlined the processes and facilitated project monitoring. "Everyone is sharing the right information at the right time!" summarizes Christophe Evers. This allowed them to develop KPIs to measure project value and time to market, and to further refine and improve portfolio management.
For more information, see the testimony of Christophe Evers, PMO of the DSI Terrena.