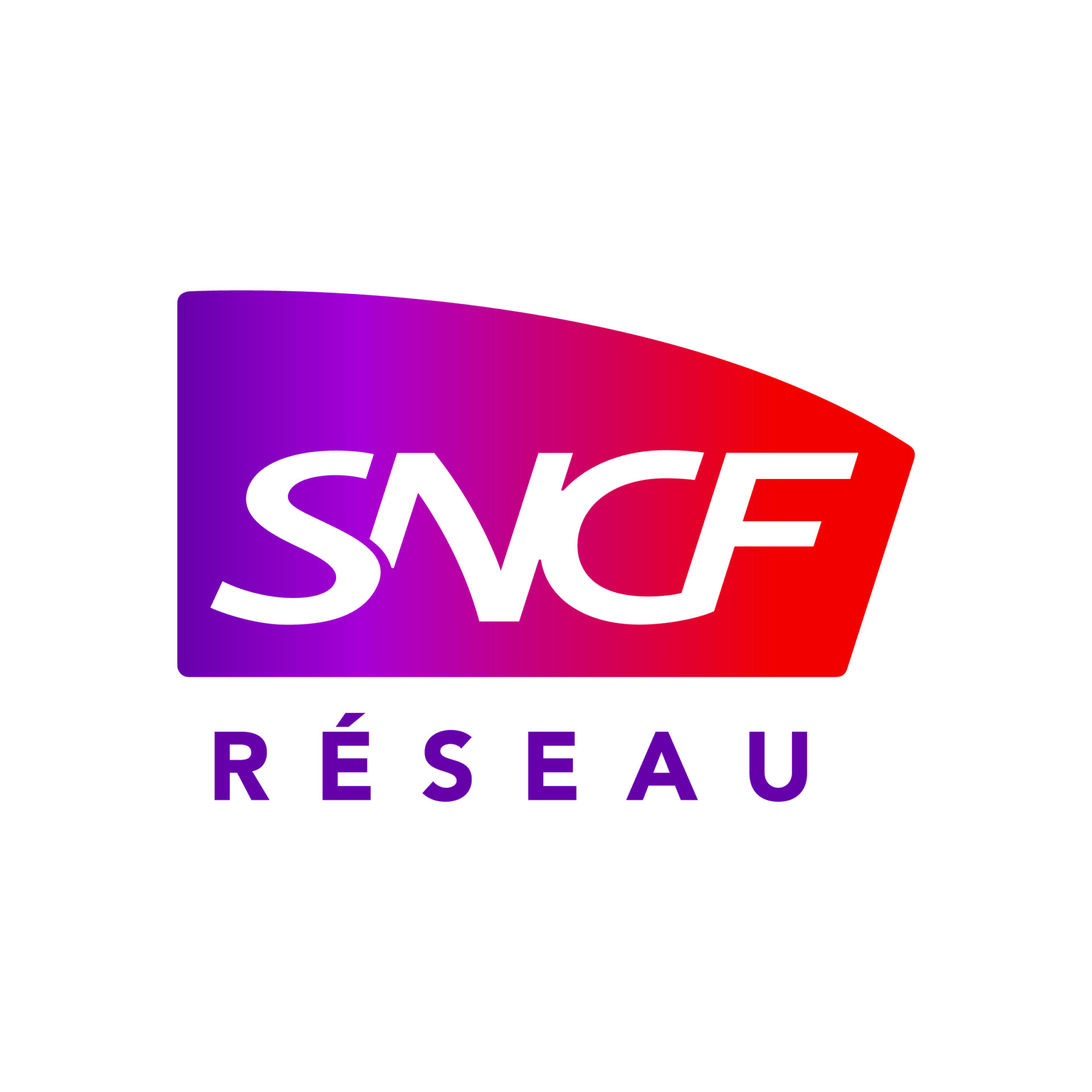 Location
France

Activity area
Transportation
Company Overview
A state-owned subsidiary of the SNCF Group, SNCF Réseau runs the railway infrastructure in France. The company is responsible for maintaining the national rail network, invests in modernizing and developing the railway system, and manages traffic to ensure service regularity.
5 M passengers per day
15,000 trains in service each day, 7,000 of which in Île-de-France (Greater Paris area)
30 000 km of lines spanning the whole country
40% increase in traffic over the last 10 years
Initiative Overview
Faced with the need to absorb massive growth in their investment portfolio over the 2010s, SNCF Réseau wanted to improve visibility and control over their investment and network maintenance projects.
As part of the digital and organizational transformation program "Nouvel'R", the company has embarked on a major overhaul of its project management ecosystem. The goal is to improve process consistency, with a focus on data quality and project planning.
As SNCF Réseau had implemented Sciforma in 2005, they could leverage the software to optimize the management of project portfolios and accelerate digital transformation.
"Sciforma was the first tool to successfully interface with the company's new integrated Data Repository. This was a huge technical challenge."
Olivier Debieuvre
Project Planning Manager
Business Drivers and Requirements
Implementing the New Project Management Process Framework
The company didn't use to have a central, standardized PPM process or a go-to solution for PPM. Sciforma was used alongside an array of other solutions such as MS Project, Primavera, and above all Excel, with makeshift interfaces between platforms.
The first step on the process standardization journey was the creation of shared datamarts within a company-wide "Data Repository". As a central hub for all data at the organization level, that Data Repository needed to be interfaced with all the platforms that produce or consume data across the company.
Meanwhile, the company was also working on defining a new end-to-end PPM process designed to streamline the management of project life cycle, and including business case management — a novelty for SNCF Réseau.
At that point, the company needed to implement a connected PPM tool in order to bring the new ecosystem to life. They wanted a solution robust enough to help the company achieve its data governance and digital transformation objectives. So SNCF Réseau set out to re-configure Sciforma — which used to serve as a satellite of the company's financial ERP and was hardly used — to an actual PPM system. A challenge during this process was to persuade the staff to cast a fresh eye on the platform and adopt it.
Better Planning of Network Operations
The company wanted to make sure that the various network maintenance and upgrade works were consistently planned and optimally scheduled in order to minimize disruption and conflicts. The decision to incorporate any project into a portfolio needed to take into consideration the overall schedule of works and the impact on network operation and traffic.
All the more, as a public service provider, SNCF Réseau is heavily impacted by changes in the political, economic and social environment, which calls for frequent adjustments to the sequencing and scheduling of activities. They needed a tool that's flexible enough to adapt to frequent shifts in direction.
Improved Control Over Project Life Cycle
It wasn't infrequent for prioritization and trade-off decisions to be revised without consultation or notice, with cascading effects on the cycle of individual projects, and also on the whole schedule of network activities and operations.
The company wanted to standardize the management of its projects not only to ensure they stay on track and deliver on project owner expectations, but also to avoid untimely unassignment of very busy and costly strategic resources.
Managing Huge Portfolios
The diversity of the company's activities — investment, maintenance projects, major overhauls — also required smart scheduling and management of portfolios. With its engineering and design departments running some 4,000 investment and maintenance projects, the company really needed the data consolidation and analytics capabilities that come with an industry-grade EPPM tool.
"Like most large companies, we already had an EPPM tool — Sciforma — but the former configuration didn't meet our needs. The wave of transformations we experienced gave us the opportunity to repurpose the tool and to demonstrate its efficiency, its power, and above all its ability to meet the expectations of both executives and operational staff, who hadn't really had the chance to use it until then."
Olivier Debieuvre
Project Planning Manager
Sciforma Solution
Software Critical Capabilities
Resource management,
Capacity management,
Project planning/scheduling,
PPM reporting/dashboards
Collaboration/work management,
Portfolio/program management,
Automated summary schedules,
Data exchange with the SNCF Réseau Data Repository
Technical Choices
Cloud,
Security,
Integrations (Excel, SharePoint, etc.)
Services
Implementation/integration services
Expected/Realized Benefits
Securing the Support of Operational Staff
As soon as Sciforma was unyoked from the financial ERP, which impaired the PPM software's action and limited its use, SNCF Réseau could restore the tool to more usable settings and adapt it to fit the needs of the business.
While the solution had been viewed as unwieldy under its previous settings, it soon demonstrated its ease of use, its responsiveness, and its overall value to operational staff. For example, Sciforma provides project and schedule templates that spare teams the need to reinvent the wheel when working on recurring activities. By proving its worth, the platform soon earned back the trust of employees, who realized that they had only experienced a fraction of the potential of this connected tool.
From that moment on, users began to realize the importance of planning in Sciforma — even though planning and scheduling weren't rooted in the company's culture — and the number of plans produced in Sciforma increased by 40% in 3 years.
Significant Improvement in Information Sharing and Collaboration
Where the combination of different tools and processes used to create misunderstandings and discordances, consolidating all planning data and activities in Sciforma has translated into clearer, more accurate, and more aligned project plans.
Without a standardized process, project managers and production engineers often used to work in silos, pursuing different objectives and only sharing information when convenient.
Today, thanks to centralization in Sciforma, everything is more transparent. Because data is automatically transferred to the common Data Repository, all stakeholders, wherever they are, can access each other's information at any time. Consolidation in the system forces everyone to be transparent, as the system requires data updates while an approval workflow ensures information reliability and freshness. This way, once a business case has been assessed, everyone can now join forces to analyze impact, collaboratively find the best way to plan and schedule, and ensure there is capacity to match.
The improvement in cross-team collaboration and the new ability to work on the basis of common standards and consistent information have greatly increased work performance.
Increased Productivity Thanks to Smarter Reporting
Data centralization and automated information sharing features have also saved teams significant time, further establishing the value that Sciforma brings them. Instead of having to send their data by e-mail or to hand out their paper reports, teams can simply share everything in the tool.
Additionally, the implementation of a specific scriptlet has automated the creation of summary schedules in the enterprise Data Repository, saving teams huge amounts of time on planning- and scheduling-related calculations.
Activities such as building capacity plans, performing quarterly data and deadline analysis or sorting data by portfolio and domain, used to require reading and manually consolidating thousands of schedules, which could take more than a month. Today, the company gets the results in two hours — that's to say, in a jiff. Overall, SNCF Réseau has recorded a 30% reduction in time spent on project administration tasks! That time is now used to discuss problem areas.
The reports and summaries produced by Sciforma also offer the advantage of providing quick and reliable access to data, which is key to respond and adapt quickly to market changes or new directions. Finally, these reports provide lines of analysis and monitoring by portfolio — another novelty for the company.
A Digital Transformation Booster
The release of the new configuration of Sciforma and the related change management initiatives (training, workshops, video tutorials) provided the occasion to spread best practices on schedules, task workflows, and more. This way, the tool provides a framework for improvement of PPM practices across the enterprise.
"We are convinced that our effort to rationalize project cycle management is key to increase work productivity and to improve the execution of both investment projects and network maintenance activities. And the idea is gaining traction in the company."
Olivier Debieuvre
Project Planning Manager
Overall, centralizing the data and the associated processes has helped highlight the importance and the value added of quality data. As people both produce and make use of the shared data that supports the firm's value and dynamics, they're incentivized to maintain and improve information quality.
That new appreciation of data is key as SNCF Réseau — like the rest of the SNCF group — is striving to accelerate digital transformation.
In fact, the executive management strongly and publicly supports the PPM digitalization and standardization initiative. The first successes and achievements, the value added from Sciforma reports and metrics, and the commitment of IT and PPM teams to making the digitization endeavor their top priority have all contributed to securing C-level buy-in — so much so that executives are now asking for more! Which, in turn, is spurring PPM leaders to fully embrace their role as key drivers of digital transformation.
Next Steps
While SNCF Réseau has focused on capturing and harnessing data so far, they're now planning to leverage other software capabilities — by stepping up reporting, making use of program management functionality, and implementing physical and EVM-based progress tracking.
The company also wants to clarify and optimize the capacity management process — both organizationally and in the tool. This will include better differentiation between the capacity assessment of engineering and maintenance project teams on the one hand, and the management of production and nominative resource assignments on the other hand.
SNCF Réseau is currently using version 6.1 of Sciforma, but a call for tenders is in progress to upgrade to version 7.1 in order to continue evolving and transforming processes, methods, and activities. The objective is to benefit from a fully-fledged strategic management tool, and also to better anticipate change in order to respond more proactively.