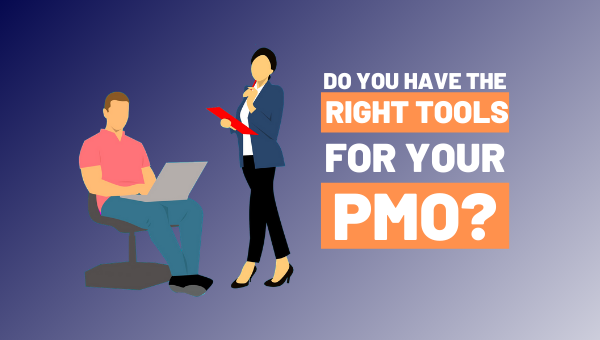 Tools are an essential part to the success of a Project Management Office, but they must be the right fit for each organization. Quickly find out if your PMO has the right tools do efficiently and productively manage your project portfolio.
Why adopt a PPM tool for your PMO?
Lacking the right tools – because you need one in the first place, or because you have outgrown your current toolset, or simply because what you have is just not what you need – is behind so many horror stories for PMOs. Waste of time, resources, lack of motivation, information reliability, project failure, there many unwanted effects to a poor project portfolio management (whether it's because of hundreds of excel worksheets, or lack of workflow automatization or communication).
The whole point of PMO tools is to help PMO leaders, project managers, analysts, and everyone in the PMO get the job done with efficiency and accuracy. For example, they will help automating mundane tasks, or to visualize masses of information in an easy-to-digest way. A PPM tool will allow your PMO to get the job done and have a positive impact on the ROI.
What are the consequences of the 'not so right' chosen tool?
Adopt a PPM tool, yes, but which one? Among the many tools available on the market, some focus on a specific area of project management, while more comprehensive tools for project portfolio management propose to take care of all these aspects by combining a range of varied functionalities.
Adopting the wrong tool will have the same consequences as not adopting it at all. Software unsuited to the needs of the company and the team will simply remain in the closet: lack of functionality, overly sophisticated software … Similarly, a tool established at the institutional level may prove useful for a department, but not for the other. Many factors can therefore lead to the abandonment of the tool, without correcting your initial problems.
How to choose the right PMO tool?
There's a formal strategy to figure out which tool to go for. There are many out there in the market, but they certainly won't all be the right fit for your organization. You need to make sure you find, implement, and foster adoption of the PMO tool that will best meet your needs.
By downloading our ebook "Do you have the right tools for your PMO", you will discover a concrete action plan to help you make the right choice. Regardless of your organization's shape, size, structure, or the PMO's maturity, the approach outlined in this eBook will help you make sure that your PMO has the toolset that is right for it at this point in time.