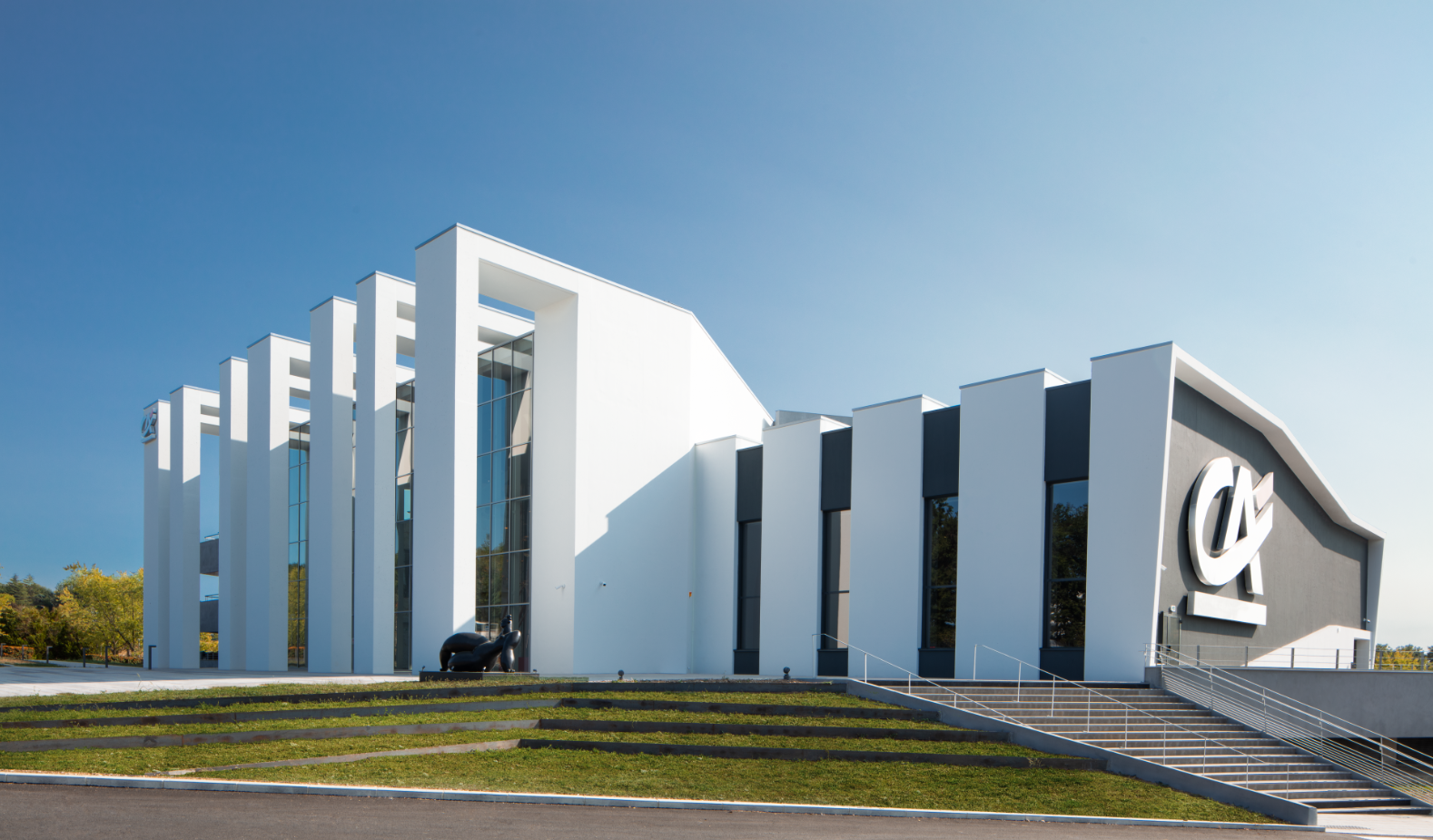 Location
France

Activity area
Banking & Insurance
Company Overview
Industry: Banking
Clients 2021: 441,056
Area: Charente-Périgord, France
Collaborators: 1,277
Website: www.credit-agricole.fr
 Background
Crédit Agricole Charente-Périgord (CACP) and its Transformation and Innovation Unit are responsible for managing the delivery of all of the Crédit Agricole's national projects. The project requests that are reviewed as part of the National Transformation and Innovation Program come from all of the Group's regional banks and address multiple strategic areas: customer and employee digital transformation, organizational transformation, innovation projects and IT projects. 
These projects are supported by some thirty Organizers (PMOs) from the Transformation and Innovation Unit.  
In addition, the company launched a large program called "We, here, together 2023!" in 2020. It is built around 4 pillars ("Customer", "Entrepreneur", "Human" and "Societal"), each lead by a manager from the Transformation and Innovation Unit. The Unit oversees more than 50 programs, each comprising several projects to be deployed over the three years of the corporate project. In particular, the "Customer" project is aimed at making Crédit Agricole Charente-Périgord "the insurance bank for customer excellence, to become customers' preferred insurance bank through transformation and innovation".  
The Issue 
In order to provide the committees with up-to-date information, the Organizers used to ask the project managers who "ended up spending more time documenting the project than managing it!" The flow of inbound requests was such that it was challenging for requestors, project teams and leaders to get a clear and complete picture. 
"Requests used to come in from all directions and we couldn't get a consolidated view of our project portfolio. Only the alerts regarding unattended requests were brought to our attention." 

Emilie CHABREYROU
Organizer | PMO, CACP
The Solution
In 2018, to support its National Transformation and Innovation Program, the Transformation and Innovation Unit adopted a centralized tool, One2Team (Sciforma Deliver), to help the Transformation and Quality Committee establish a governance. This monthly committee, where requestors submit their projects to senior management and to the heads of departments and units, provides a framework and has 2 key objectives: visibility and decision-making. 
One2Team (Sciforma Deliver) was expected to make it possible to: 
Centralize project requests into a single repository to share a complete and up-to-date picture of requests and projects. 
Characterize, prioritize, plan and manage the execution of thousands of national projects. 
"Given the volume of requests we received, we could no longer waste time collecting information, but we needed a continuously and instantly updated repository." 

Frédéric BAILLARD
Innovation Monitoring and Partnerships Manager, CACP
The platform also proved to be instrumental in the governance of the "We, here, together 2023" corporate project programs. As part of this initiative, more than 50 Program coordinators and project managers are using One2Team (Sciforma Deliver) to: 
Manage the execution of the various projects of the program with the project managers, 
Enable proper governance of the program thanks to shared visibility with all the top managers but also with project requestors and project teams,
Provide insight to the various committees that are structuring this program and the related activities. 
More than 1,600 requests and projects have been processed using One2Team (Sciforma Deliver) since its implementation at Crédit Agricole Charente-Périgord in June 2018. "Usage continues to increase. Today, we have over 400 programs, projects or requests that are being processed or scheduled." 
Objectives: improved visibility for better project planning and delivery 
Gaining visibility into all requests and projects 
Improving project prioritization 
Improving planning, capacity and delivery cycles 
Improving collaboration and communication 
Optimizing project teams on high-value-added tasks 
Why One2Team (Sciforma Deliver)?
"We chose One2Team for its ability to handle a large volume of projects and for its versatility with program and project portfolio management, committee management, and task management." 

Frédéric BAILLARD
Innovation Monitoring and Partnerships Manager, CACP
CACP chose the One2Team platform (Sciforma Deliver) to: 
Manage large numbers of projects simultaneously and enable senior management to make decisions, 
Align the work of the different team members involved, especially for the most cross-functional projects of CACP, 
Improve collaboration and communication across the various departments and units, 
Drastically reduce the time spent collecting information and producing various reports. 
"First of all, we needed a tool enabling us to list all the requests and projects of the National Transformation and Innovation Program. It was urgent for us to assess our capacity to address all outstanding requests and to be able to plan them using a single, shared framework for description and classification. In our highly regulated line of business, a large number of departments are making contributions at different stages of projects. It is key to align their schedules and capacity requirements with the multiple inbound requests. The single repository should then help to make the requests easier to read, with standard criteria for fact-based prioritization."

Frédéric BAILLARD
Innovation Monitoring and Partnerships Manager, CACP
The Outcomes
100% of strategic programs are in One2Team 
100% of cross-functional projects are in One2Team 
100% of the projects reviewed by the committees are in One2Team 
100% of the stakeholders and project team members are One2Team users 
100% of regulatory compliance actions are managed in One2Team
Next steps: developing a project culture with Work Management at scale
"Most of the time, project requestors are not project management professionals. These stakeholders from Operations will become occasional project managers. Some of them will never have to play this role again once their project is delivered. For CACP, developing a project culture is a priority. Our approach/strategy is to bring users from demand management to project management."

Emilie CHABREYROU
Organizer | PMO, CACP
The CACP acts as a custodian of the standardization of the process to manage the projects of the Transformation and Innovation program. The upcoming integration of the Security Unit into One2Team will make the tool and its usage even more central. In order to acculturate the 300 One2Team users to project management, the Transformation and Innovation Unit has opted for a usage-based adoption plan for project managers, financial control and senior management.
1) Completing the "demand management" stage: 
All project requests are entered into One2Team by the requestors. Dedicated screens instantly show the key information that needs to be entered and updated. 
Requestors consolidate their requests, the related documentation and target deliverables into one single place and can access the decisions made during committees as well as the minutes. 
Everyone can instantly know the status of projects, their to-do lists, pending actions, and risks. 
"The idea is to make One2Team the platform to manage all the projects of Crédit Agricole Charente-Périgord."

Emilie CHABREYROU
Organizer | PMO, CACP
2) Reviewing and monitoring projects in committees
Project actions and statuses are reviewed during the committees — that have gone virtual since the shelter-in-place mandates — allowing everyone to take an active part in projects either as project managers but sometimes also as team members. 
In order for a request to evolve into a planned project, thanks to a common Template, its requestor needs to ensure completeness and to meet the criteria that will be assessed by the committee.  
They are notified of status changes and are able to access the decision minutes, including the start and delivery dates, depending on the capacity of the teams that are working in sprints.
"The Kanban view and the role-based custom views are allowing us to embrace a more visual approach to project management and to consider Lean and Agile." 

Frédéric BAILLARD
Innovation Monitoring and Partnerships Manager, CACP
3) Approaching project management through task management
CACP uses One2Team to manage several of its activities (IT, Multichannel Communication, Regulatory Affairs, Monitoring and Innovation…) 
Several of these departments used to receive many unstructured requests from numerous sources. 
One2Team's CACP administrators are empowered to set up dedicated environments for activities:

Department and unit managers and their teams have a consolidated view of requests and of their capacity and schedule; 
Project team members can share information and documents with requestors and provide updates on progress; 
All stakeholders can find the business vocabulary and process digitalized in One2Team. 
 "With One2Team these teams have a better view of their workload; they can better process the requests and they get positive feedback from users on project success.  So, change is no longer perceived as a challenge, but rather as a benefit."

Emilie CHABREYROU
Organizer | PMO, CACP