Paris (May 16, 2023) — Sciforma announced a new Data Integration Studio for its Vantage platform. The studio allows users to build interfaces between Vantage, including Sciforma Plan and Deliver modules, and any third-party application. This includes but is not limited to Jira, MS Project, Power BI, Tableau, Service Now, HRIS, ERPs, CRMs, and field operations systems.
"The Data Integration Studio provides a new way to build data integrations with Sciforma Vantage, in addition to the Rest API available on Plan modules," says Sciforma Director of Product, Alexandre Laurent. "We provide Vantage components to install in the Studio, and the interfaces can be built without a dedicated development team."
The Data Integration Studio is an ETL (Extract, Transform, Load) process based on Talend Open Studio. Because of this, any team with Talend knowledge can build connectors. This includes the Sciforma Professional Services Team and any of Sciforma's accredited business partners around the globe.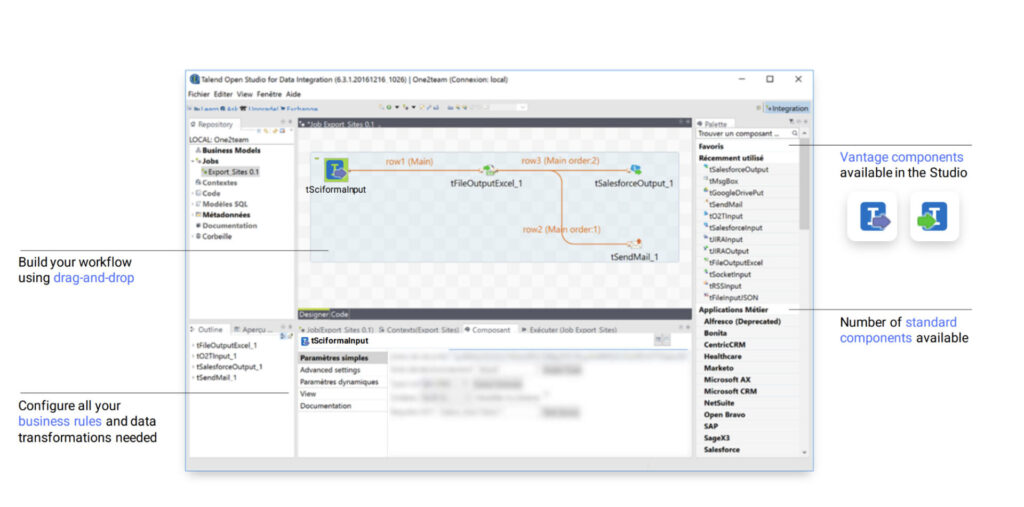 With this new Sciforma Vantage release, PMs, PMOs, ePMOs, CxOs, and R&D departments can enhance nearly all of Sciforma's critical capabilities, including:
demand management
resource and capacity management
project scheduling with Agile and Gantt
PPM reporting
collaborative work management
time management
Technical documentation for the Data Integration Studio is available in the Sciforma Customer Success Center.
Sciforma customers span a wide range: from SMEs to divisions of some of the world's largest and most dynamic companies. To request a demo or for further information on Sciforma Vantage and data integration, contact Sciforma.

About Sciforma Vantage
Sciforma is one of the leading providers of Portfolio & Project Management (PPM) software, delivering solutions to more than a quarter million users worldwide for over 30 years. Boasting PPM, SPM, and CWM capabilities, the Sciforma Vantage solution helps teams plan and deliver on strategic initiatives by making data-driven decisions about their project portfolios, resources, and strategic goals—all in one collaborative, customizable platform.
The company stands out from its competitors by providing the optimal balance of usability and robust functionality. Further, they support project team and executive-level portfolio management for solving challenges with strategic communication, planning, tracking, execution, and more. In recent years, Sciforma merged with One2Team (2021) and KeyedIn (2023), thereby reinforcing its Project Portfolio Management and Strategic Portfolio Management (SPM) capabilities.
For more information, visit www.sciforma.com. Follow us on LinkedIn.